ABOUT HER
Wednesday, October 28, 2009
GARMIN FORERUNNER GIVEAWAY FOR A GOOD CAUSE
I was contacted by Stacy about a wonderful raffle that I know you all will want to be a part of!!!!! Check it out……

Would you like a chance at winning your very own Garmin Forerunner watch or a Trader Joe's Gift Pack!?
An Awesome Raffle and the Chance to Support a Great Cause!
Hello fellow NHerShoes readers! My name is Stacey and this December I will be running the St. Jude Memphis Marathon as a St. Jude Hero to raise money for the St. Jude Children's Research Hospital. My goal is to raise $2500.00 for St. Jude and Angela has graciously agreed to help me by hosting a fundraiser on Oh She Glows with me.
A few facts about St. Jude Children's Research Hospital:
St. Jude Children's Research Hospital was founded in 1962 by the late entertainer Danny Thomas. Its mission is to find cures for children with cancer and other catastrophic diseases through research and treatment.
St. Jude has treated children from all 50 states and from around the world.
The daily operating cost for St. Jude is nearly $1.4 million, which is primarily covered by public contributions.
St. Jude pioneered a combination of chemotherapy, radiation and surgery to treat childhood cancers.
St. Jude is the only pediatric cancer research center where families never pay for treatment not covered by insurance. No child is ever denied treatment because of the family's inability to pay.
St. Jude has developed protocols that have helped push overall survival rates for childhood cancers from less than 20 percent when the hospital opened in 1962 to more than 70 percent.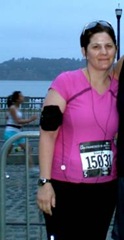 Before I get into the raffle details, I thought that I would tell you a little bit about myself. I am 32 years old and I started running about 8 years ago. My first distance run was a full marathon with Team In Training. It was a great experience and I fell in love with running. Unfortunately, a few years later, I fell off the running wagon as life got super busy and I let physical fitness fall to the bottom of my priority list. When I turned 30, I was finally getting back into the swing of things so I set a goal of running a half marathon in all 50 states. (Side note: I am running a full marathon for St. Jude, but I will include it as my half marathon for Tennessee.) I'm 6 states in and happy to report that I am slowly getting back to my original running form! A big factor in my journey was stumbling across some amazing food and healthy lifestyle blogs earlier this year. Oh She Glows is one of my favorites and I definitely appreciate all that Angela does to provide informative and interesting posts for her readers. I've also been very inspired by her determination and spirit! She is truly amazing.
Now, back to the raffle and the opportunity to support St. Jude!

Here's how the raffle will work…

By clicking this link below and making a donation on my behalf, you will be entered in to the prize drawing based on the amount you donate.
Your $5 donation will enter you in to the drawing for the Trader Joe's Goodie Bag!

Your $10 donation will enter you in to the drawing for the Garmin 305 Forerunner!

Your $15 donation will enter you in to the drawing for both prizes!!!
PRIZES
The Trader Joe's Goodie Bag ($50 value) contains the following items:
· A Reusable Trader Joe's Shopping Bag
· Sea Salt Pita Crackers
· Sesame Seaweed Rice Balls
· 4 Fruit Bars
· Tricolor Egg Pasta Ribbons
· Eggplant and Garlic Spread
· Peanut Butter filled Pretzels
· Mini Peanut Butter Cups
· Dark Chocolate Edamame
· Green Bean Snacks
The Garmin 305 Forerunner ($199.99 value) is an amazing GPS watch that you can use for running, walking and cycling. My training runs have become so much more fun since I got one of my own! (This picture is of my watch. I will be sending the winner a brand new, unused Garmin J)

HOW TO ENTER
To enter this amazing raffle and support St. Jude, click this link to be directed to my donations page.
Click the Donate Now button and enter your donation amount and personal information. (This is for tax purposes- St. Jude will send you an official acknowledgement of your donation for your records.)
In the personal message portion of the donation screen please enter OSG. This will prompt an e-mail to be sent to my personal address. I will use this e-mail as your entry in the raffle- so please don't forget this step!
OTHER RAFFLE DETAILS
· The raffle will begin on Monday, October 26, 2009.
· Entries will be accepted until 11:59 pm on Wednesday, October 28, 2009.
· The winner for both prizes will be determined by the Random Integer Generator on www.random.org.
· The winners will be announced by Thursday at Oh She Glows.
· I will mail the prizes within 2 days of receiving the winner's addresses.
· Both prizes are available for shipment to the U.S and Canada.
· I look forward to raising money for St. Jude and want to thank everyone in advance for their help in supporting such a great cause!
Well friends GET ON IT!!!
Posted by

BOBBI McCORMICK
at 7:12 AM